Digital Sales & Services for Fittings with the iFurn Cloud Service
The next level in the digital workflow of furniture production
iFurn prepares the original product data from fitting suppliers digitally. This creates more than just a simple data record – the so-called qualified data contains, among other things, article numbers, parts lists, machining data and drilling pattern information.
The digital article data is then available to designers in the iFurn Cloud – as individual fittings, complete fitting sets or in the catalog.
New! iFurn services are available in the tapio Shop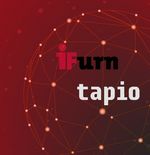 tapio is a provider of digital solutions and tools for carpenters, furniture manufacturers, and panel processors. From now on, iFurn is also part of tapio's offer! And this is how you use the iFurn services via tapio:
As a tapio user, log in to my tapio or alternatively go to the tapio Shop. In the product overview, select iFurn and book your desired contract period – that's it!