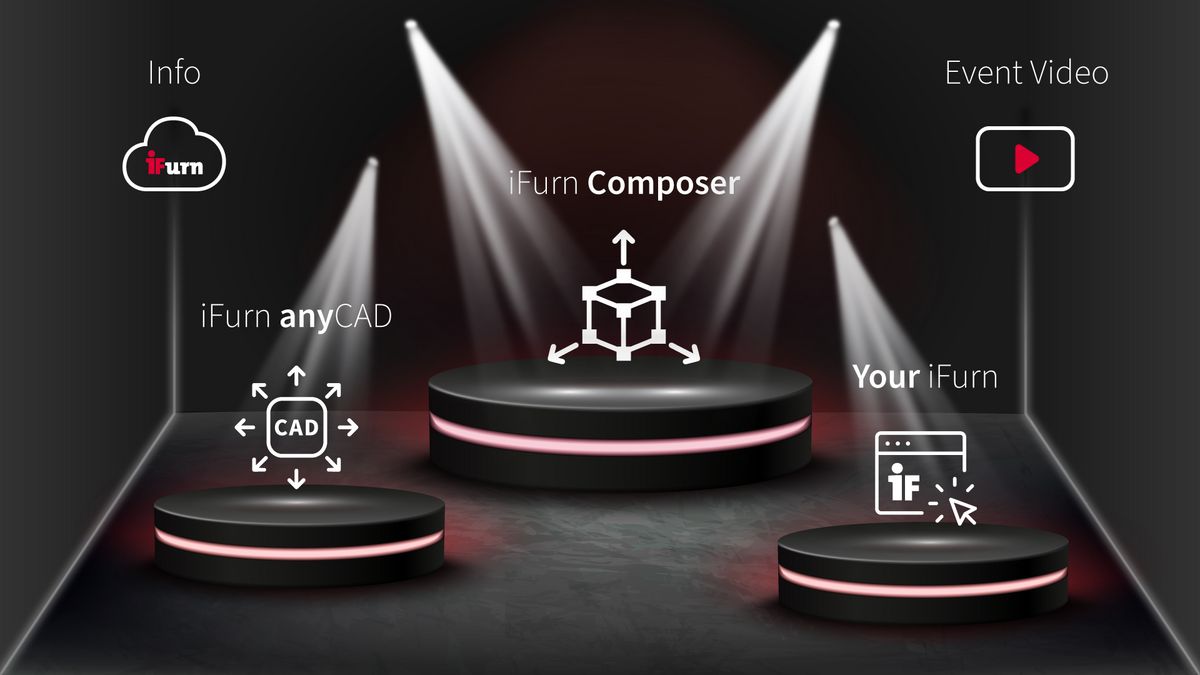 Info
Digital is better. Digital is easy. Digital is iFurn
iFurn is a cloud service for the furniture industry and has been offering online services for the provision and distribution of technical catalog data from furniture suppliers since 2008. Initially, the online platform complemented the product portfolio of imos AG, which develops software solutions for industry and trade with imos iX. The intention was to integrate the supplier industry into the imos processes as well. Therefore, with the help of the online platform, a direct connection between supplier and producer was created: The supplier data can be retrieved online and processed directly in the CAD system.
The iFurn data has been used successfully by imos users for many years. In the future, iFurn will operate independently and detached from imos AG in order to further expand its central position in data processing and data provision and to achieve a greater reach among suppliers and producers that is independent of imos.
Some of the largest suppliers already integrate their product data into iFurn
Today, the data of the leading hardware and material manufacturers is available in iFurn. Thanks to its flexible data output, iFurn is also an attractive solution for all other CAD software systems.
From more than 55 countries, innovative furniture manufacturers use this multilingual data service.
The future lies in being able to digitally process all components of a piece of furniture. As the only cloud service, iFurn offers a simple way to provide supplier data digitally and thus supports the digital workflow in furniture production.
Providing digital product data has never been so easy!
iFurn digitally prepares the original product data from suppliers and makes it available in the iFurn Cloud. Designers then access the supplied product data using a catalog interface and download it directly into their design via the iFurn Cloud - in any required format.
Due to the flexible format output, iFurn is also an attractive solution for software manufacturers who want to add product data output to their CAD software.
Your benefits with iFurn: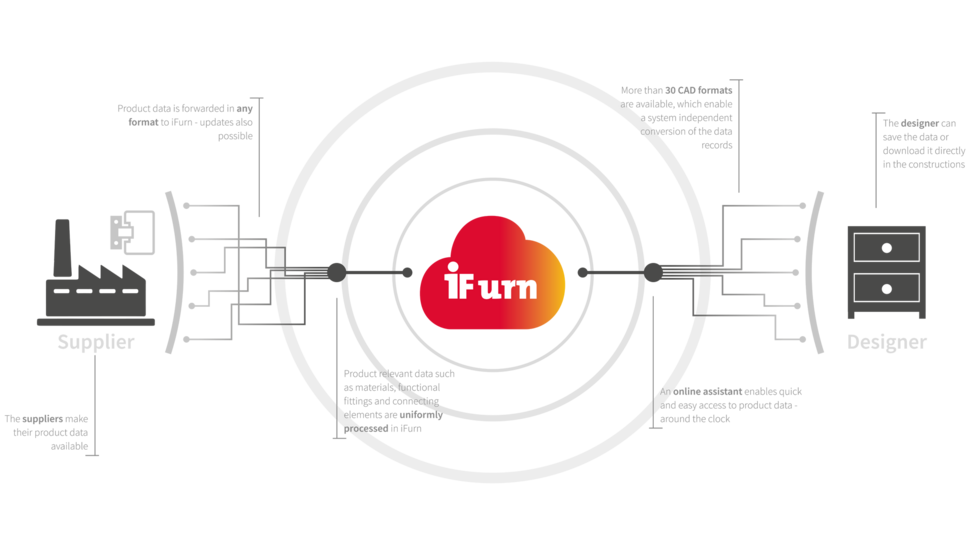 Suppliers offer the best access to their product data via the iFurn Cloud. Thanks to the digitized data, they can provide a broad data portfolio for designers in digital form.
Reach designers directly.
Bring new products to market faster.
Offer designers a special service to optimize their processes.
Support the digital workflow of furniture production.
Make product adjustments easily.
iFurn Hub: The new network for the furniture industry. Be part of it too!
In the long term, iFurn wants to promote networking around the furniture industry and the exchange with users. With our free iFurn Hub network, we are offering all companies that provide their data digitized via iFurn the opportunity to present themselves on the iFurn website in the form of a short profile. iFurn thus supports the online presentation of all companies and promotes communication between suppliers, users and craft businesses in a very special way.
iFurn anyCAD
Your digital article data for all designers
Flexible format output for all CAD systems with iFurn anyCAD
The iFurn data has become system independent: The data sets saved by the designer can be downloaded and formatted in over 30 CAD formats using the new iFurn anyCAD output function. Thus, users of all common CAD systems can work with iFurn data!
As a result, iFurn anyCAD has even become a strategy for us: We can expand our partner network with more CAD software manufacturers who integrate iFurn into their software. Your digital article data will then also be available to many more users!
How does iFurn anyCAD work?
iFurn is used via the iFurn Catalog, an interface that filters, sorts and lists the supplier data sought. It is called up via the online platform on ifurn.net or directly from the CAD system. The online assistant iFurn anyCAD supports the iFurn Catalog in the product search and enables the
Use of iFurn Composer hardware selection
Composition of hardware assemblies
Output to any CAD format
Placement of the finished fittings in the room
Output of machining operations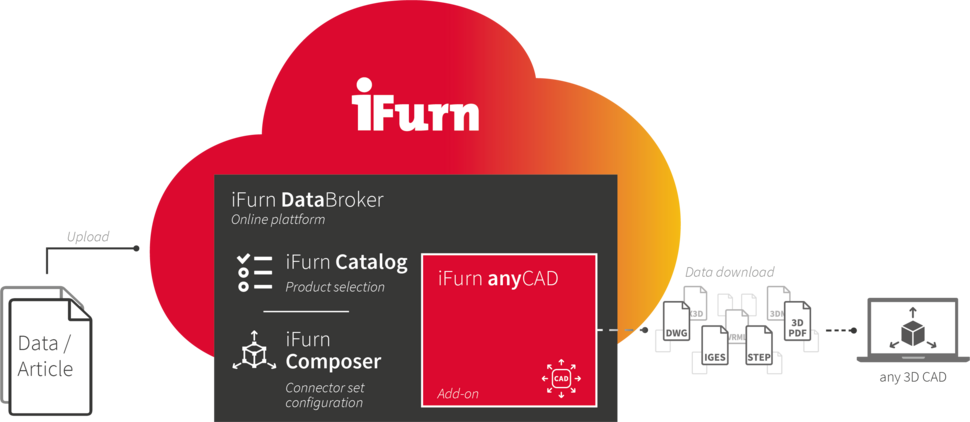 If the articles were assembled via iFurn anyCAD, the following models can be output in addition to the detached CAD models:
Combined CAD model of all fittings
All machining in another CAD model
How iFurn anyCAD works:
iFurn Composer
Your fitting where it belongs - quickly and accurately.
Efficient designs with iFurn Composer
With this new function, designers can find fittings for a specific design situationincluding accessories. The iFurn Composer supports every detailed planning and solves even complex designs, works system-independently and also offers further data.
And above all: All data can be converted into over 30 CAD formats with the iFurn anyCAD output function! Users of all common CAD systems can use the iFurn Composer and have precisely fitting hardware solutions worked out for their design - time-saving and secure.
How does the iFurn Composer work exactly?
Designers describe a design situation online in the browser to find a fitting solution for it. First, an area of the furniture is segmented and defined in more detail by specifying height, width and depth. For these basic dimensions, the iFurn Composer offers fittings, drawers, etc. from the iFurn Cloud for selection. The iFurn Composer processes the selection and gives the designers a combination of the articles with all information including processing data as a result.
During the download all necessary data will be output:
Commercial data such as parts and order lists
Technical data for correct installation
Drawings for representation and renderings
Accessories/setups for combinatorics
Functions & Data Output:
Access via iFurn anyCAD or from imos iX
Design-related selection
Dynamic generation of data (connector sets)
Download to over 30 CAD formats
The iFurn Composer provides data in furniture configurators, among others at
iFurn Composer Workflow
How the iFurn Composer works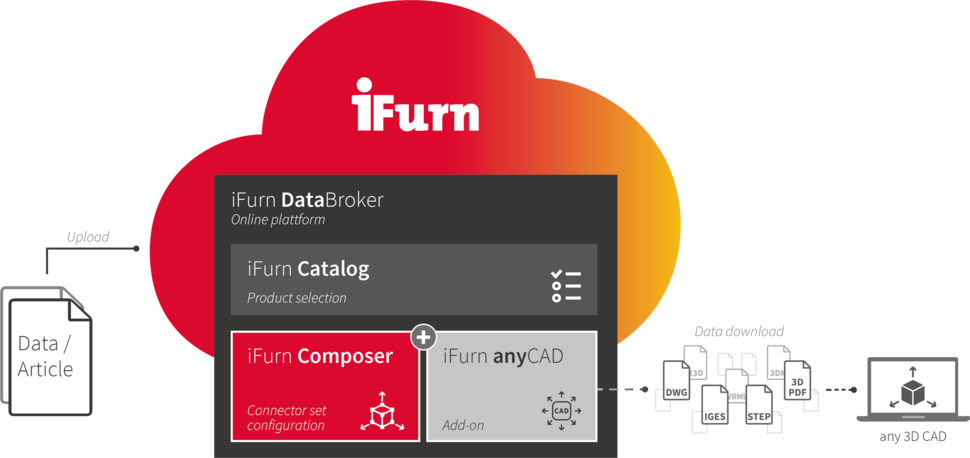 Your iFurn
Your digital data. In your design. On your website.
The direct path to the user is called "Your iFurn".
With Your iFurn you have the possibility to integrate your article data digitized by iFurn on your website. You not only present your part data online, but also offer it directly to designers for use. This is how quickly your parts data can be put to use - and at the same time you offer designers a first-class service.
The Your iFurn application is integrated into the website and provided with your corporate design. Connected to the iFurn Cloud, it outputs the article data via iFurn anyCAD in over 30 CAD formats for all common CAD systems. The new iFurn Composer hardware selection is also available to the designer.
You want to offer your digital item data yourself as an optimal service? Then Your iFurn is the right solution for you! We will be happy to advise you on this. Use our contact form - we will be happy to advise you.